ADVANCED COURSE in the art of FENG SHUI
LEARN HOW TO ACTIVATE THE ENERGIES OF LOVE, HEALTH AND SUCCESS
   Advanced Course - the mysteries of art and magic elements of Feng Shui/ Vastu. (Level II)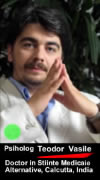 The next course will take place on 24, 25, 26 May 2013.

Each student shall receive a study package that consists of the following items:
- written course support;
- writing book for pracice notes;
- dowsing tools, specific for Feng Shui consultancy.
You can obtain additional information as well as make Appointments, to participate in our courses by calling +4 021-224.01.56 (available Monday to Friday, between 12:00 and 20:00 hrs. EET); +4 0756.93.93.93 or              +4 0744.301.389. You can also use de email adress: cursuri@fengshui.arts.ro. Appointments should be made at least a month before the approximate date the next course takes place.